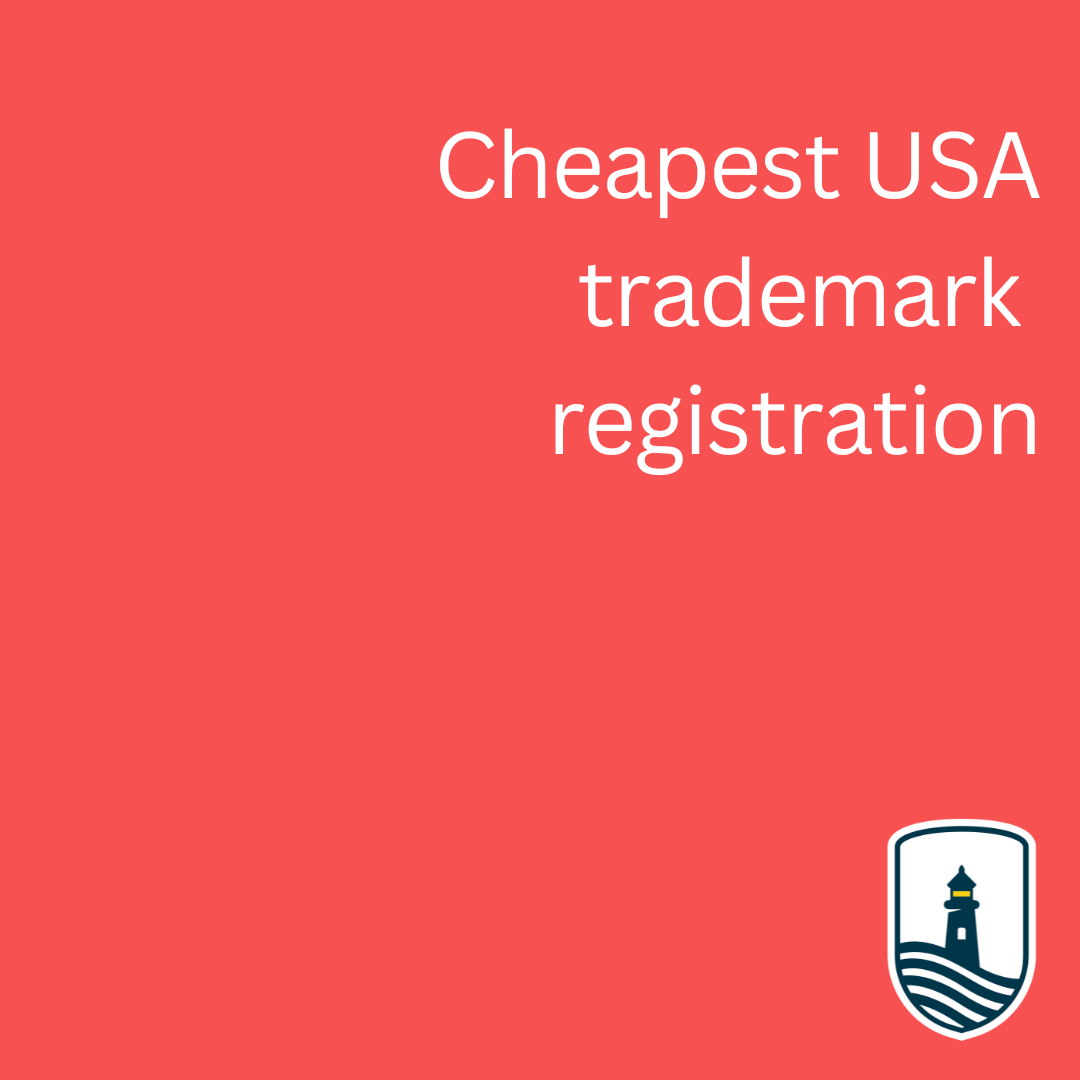 Finding the cheapest price for filing a trademark is like playing limbo. Seriously! How low can you go without falling down or seriously injuring your back? 
Here is the final answer you wanted to find. But as it goes, you might not like it. It's not possible to get a completely free trademark in the United States. The US Patent and Trademark Office (USPTO) charges a fee to process trademark applications, and this fee is required to be paid in order to obtain a trademark registration.
The lowest price you can get for a trademark in the USA is…
                                    US$250
That's right boys and girls, that's the answer to the question how low can you go. Thank you for reading this article and I hope you enjoyed it and…
Oh, wait. So you want to know how YOU can apply for the trademark in the USA for just US$250? 
The cheapest way to register a trademark in the United States is to do it yourself using the US Patent and Trademark Office's (USPTO) online filing system. This process is known as "pro se" filing. Alright, that's where the fun begins. Some rules will apply and here they go. 
Rules of getting a super-cheap trademark filing in the USA in 2023:
Live in the USA or own a US company. If you are not from the USA, you can't avoid hiring an attorney and, therefore, the cheapest option is not available for you. 
Do not hire an attorney. Seriously. Who needs them (us). Trademark law is easy. Just look at me, I am 34 and I still know how to have fun. Getting the lowest possible price means that you are going a full DIY mode.
No professional trademark search. Trademark searches (like brakes) are for quitters. Go full throttle, live in the fast lane. If you get an objection, you get the objection.
You will need to use the cheapest form called TEAS Plus (available here after registration). Just keep in mind that there are certain rules on how you must fill out the form and if you make an error, you will have to pay 100$ extra. (Always add your ZIP code, never use a care-of address, etc.)
Apply for just one class. Each extra class is US$250. Who needs extra classes anyway? Unless you sell bags and clothing. Or if you develop downloadable and non-downloadable software. But - that's serious - one class is usually enough.This fee is non-refundable, even if your application is denied.
Use standard items. Standard items are easy to choose, just avoid selling something like "bitcoin asic miner" and you are good. You can find the list of items here: https://tmidm.uspto.gov/id-master-list-public.html
Use your mark before you apply. If you don't use your mark you'll have to file it based on your intent to use and this means paying at least US$100 per class when the mark is accepted for registration.
Don't make any mistakes when filling out the trademark registration form. Errors = problems, problems = time and money to solve. Critical errors mean that the application fee you paid is lost and you have to start over again. The USPTO issues no refunds. 
If you decide that the form is confusing and difficult to complete, well, that's the first impression. It's not only difficult to complete, it's also very unforgiving. Just have a look: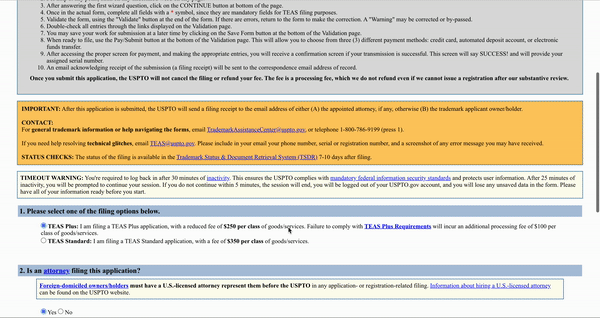 But it doesn't mean that applying for your mark yourself is impossible. It's just difficult. If you wish to know the lowest price you can get BUT with a professional attorney with 1000+ successful cases in the last few years and one of the highest success rates in the industry, you can check it here: Trademark Registration in the USA
If you're not comfortable filing your own application, you may want to consider working with us. While this will increase the cost of the registration process, it can provide peace of mind knowing that your application is being handled by a legal professional.