Costa Rica Trademark Registration Process
In Costa Rica, trademark registration is governed by the Industrial Property Law and is administered by the National Registry of Costa Rica. To obtain trademark protection in Costa Rica, an application must be filed with the National Registry. The application process typically includes a search of existing trademarks, examination, and if approved, publication in the Official Gazette.
After the trademark has been published, there is a 30-day opposition period during which any interested party can challenge the registration. If no opposition is received or if an opposition is unsuccessful, the trademark registration is granted and protected for 10 years from the date of application.
The trademark can then be renewed for successive 10-year periods. It's important to note that trademark registration in Costa Rica only offers protection within the country's borders.Our professional trademark attorney in Costa Rica will prepare and file your trademark for registration in the country. Costa Rica uses a combined system "first to use" and "first to file". If a trademark is in use in Costa Rica, the trademark will be protected to some degree. 
When you register your trade mark, you'll be able to:
1. Take legal action against anyone who uses your brand without your permission, including counterfeiters
2. Put the ® symbol next to your brand - to show that it's yours and warn others against using it
3. Sell and license your brand 
Costa Rica Trademark registration: Requirements
Trademark registration: Procedure
Our attorney will file your trademark within 5 business days after receiving all the required documents.
A trademark registration is valid for 10 years starting from the registration date. 
How To Order
Fill out a simple online form on this page
A Trademark Account Manager will contact you within a business day
Prepare the necessary documents 
The trademark will be filed within 5 business day
We will keep you posted on the progress & inform you when the trademark registers
Any questions? Contact us at [email protected]
Does a national Cost Rica trademark search exist?
Updated February 2023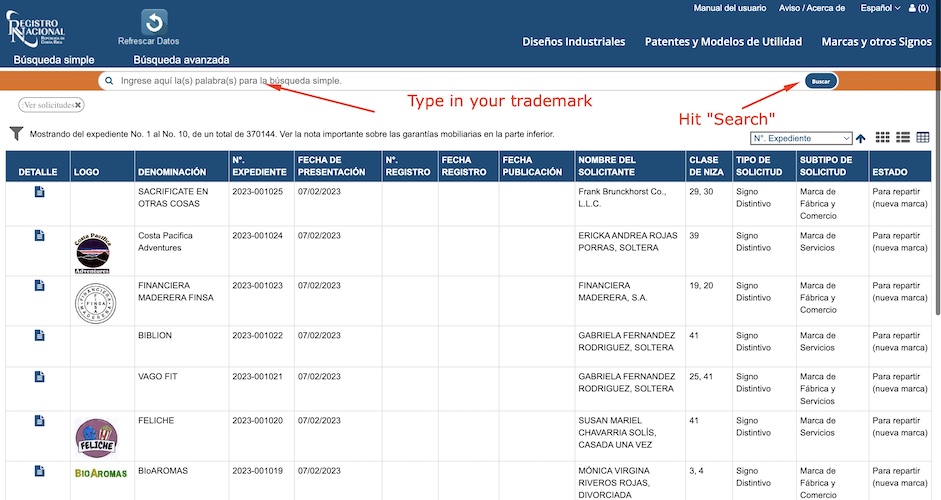 Yes, a national trademark search system exists in Costa Rica. The National Registry of Costa Rica is responsible for maintaining a database of trademarks registered in the country. A trademark search can be performed through the National Registry's database to determine if a similar trademark has already been registered or is pending registration.
It's open and free to use, no digital signature/account required. You can access it here (copy and paste the link): https://rpi.rnp.go.cr/wopublish-search/public/trademarks?2&query=OFCO:CR
The only issue is that the search is in Spanish. You can request a free trademark search in Costa Rica on this page. It's a free search and it's performed by our specialists using the most accurate database in Costa Rica.
This trademark search is typically conducted before filing a trademark application to assess the availability of the desired trademark and to avoid any potential conflicts with existing trademarks. The results of the search can help inform the trademark application process and provide valuable information for trademark owners to make informed decisions about their trademark rights in Costa Rica.
Costa Rica Trademark Services
We offer the following services in Costa Rica:
Trademark Search (wordmarks only)
Trademark Registration
Trademark renewal
Trademark oppositions within 60 days from the publication date
Defenses in case of oppositions or objections/office actions in Costa Rica
Trademark assignment
Change of name/Change of Address
If you are interested in any of these services, please do not hesitate to contact us.
Note, that the price for a registration request includes final registration fees if the fees are not listed separately above. These prices include everything for a straightforward process of registration. The prices do not include legal defence in case of oppositions or objections.
Will a US trademark cover Costa Rica?
No, a US trademark registration will not cover Costa Rica. Trademarks are territorial and each country has its own trademark registration system. To obtain trademark protection in Costa Rica, a separate trademark application must be filed with the National Registry of Costa Rica and registered according to the requirements of Costa Rican trademark law.
It is advisable to seek the assistance of a local trademark attorney to ensure compliance with the local legal requirements and to navigate the trademark registration process in Costa Rica.