As the saying goes, searching is easy, the finding is difficult, and it can't be more true with using the WIPO trademark database, also known as the Madrid Monitor Database.
You can access the database by searching "Madrid Monitor", the direct link is here: https://www3.wipo.int/madrid/monitor/en/
➡️ Here is our Trademark Search Ranking ⬅️

Click to see how we evaluated the database search.

✅ How user-friendly is the WIPO search?

I give it 4 out of 10. The interface looks simple, but that's only before you hit the search button. But it's free and easy to access, no registration is required.

✅ How good is the WIPO search in checking your mark availability?

I give it 0 out of 10. The results you get from searching only the WIPO database will be incomplete and can't be used for determining your mark availability.

✅ How accurate is the WIPO Database?

10 out of 10. It's one of the most well-maintained Databases. I am not joking here.

✅ How novice-friendly is the search system?

5 out of 10. It's not friendly for someone with no experience. The results are difficult to understand.

✅ How detailed is the WIPO Database?

10 out of 10. Very detailed! You can have all the information about a trademark status in a particular country, all the documents, deadlines, everything. I think this should be a standard of public data availability.

Overall here are the points: We give it 6.5 points.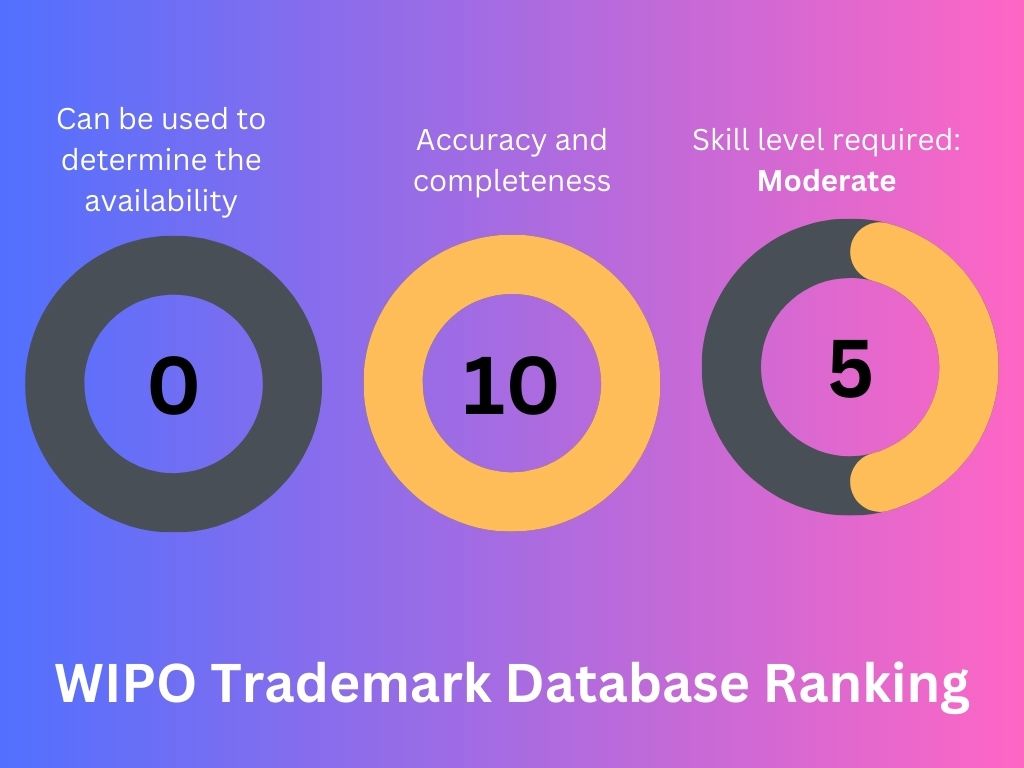 Now, before we dive into the details, let's consider what we are trying to achieve. Are you trying to perform a search to determine if your mark is registrable? Bad luck here, the database can't be used for this purpose, and I will explain in detail later why. Are you trying to find your trademark and check its details? That's the best-case scenario! I suggest you check my other article: How to check a WIPO trademark status. What if you want to find trademarks of some specific company, maybe to check who is the owner of some trademark you saw, or to perform a preliminary search of a brand? With mixed results, you can use the WIPO trademark database for this.
| | |
| --- | --- |
| Good For | Bad For |
| Checking statuses of applications and trademarks | Checking your mark availability |
| Getting detailed information of registered trademarks | |
| Finding WIPO marks of particular owners or your competitors | |
Without any further ado, let's get this party rolling. (Am I really writing "party rolling" in the article about the WIPO trademark database? That's what you call job conditioning!).
Why is the WIPO database (Madrid Monitor) not sufficient to determine the availability of your trademark?
The answer is in the name. It's a -pause- WIPO database. And it contains only WIPO marks. Wait, some of you will say. But those are called international trademarks! This should include all the marks, right? Right?!
Here is the catch:
Separately from the international trademarks of WIPO exist national trademarks, you see. Every country has its own Register of trademarks. And each country has its own search engine, which is completely different from other countries search engines, leaving us with what, 180+ databases? That's more or less true.
At any given moment, in a WIPO country (a country that joined the Madrid Protocol, for the sake of simplicity), there are two Registers of active marks: one for international marks and another for national marks. So you can see the issue, right? You can't just search one Register, no-no, you need to search both Registers. Well, in some countries, there are four Registers, but we leave this for now, I don't want to spoil all the fun of finding out about the EU trademarking system!
What is the good news?
The good news is that national trademark databases usually include WIPO trademarks. So, theoretically, you can check just the national database and find the WIPO marks protected in this country or region and national marks. That's true, but you can't do the opposite, and hence the Madrid Monitor is useless as you will surely miss any conflicting national trademarks.
What is the best replacement for WIPO's Madrid Monitor search?
The recommended alternative is TMVIEW, provided by the EU Intellectual Property Office. TMVIEW offers a comprehensive collection of national and international trademarks across numerous countries. It is important to note that while the national databases can sometimes be poorly maintained, this is not a fault of TMVIEW. TMVIEW's trademark search is very accurate when searching in the EU, Canada, the US, China, Japan, Australia, and many other countries. We will provide more detailed coverage of TMVIEW in a separate article.
Other ways to search for trademarks
Alright then! What can you use it for, then? Mainly, you use it for checking the status of your mark. I mentioned an article above about how to check statuses, and I will mention this only briefly.
All you need is the simple search available on the Madrid Monitor webpage, type in your trademark number, and here you go: the record you were looking for appears. Easy and convenient. Don't go any further because lions roam there.
Using the WIPO DB search in any other way is likely to be considered professional use. I know that many of my colleagues use the system to track when trademarks of foreign applicants get objections and to contact them with their offers. This is a valid professional use, but I must say you are unlikely to be using it this way since my article is intended for beginners. And there are many tools for professionals to simplify the task.
Some wildcards to help with your search:

*BONAMARK* - the "*" after a word means "find all marks starting from the word", the same sign before the word means "find all marks ending with the word", the sign in the beginning and the end of a word stands for "all marks containing the word".

B?NAMARK - the question mark can be used to replace any symbol, and this search will return all words starting with B followed by one symbol and ending with NAMARK.

That's the two main wildcards you will need.
Let's say you want to purchase a company and you wish to check if their marks are in good order and it happens that they have only WIPO marks.
Go to the advanced search, put the name of the company into the "Holder" field, sit back, and relax.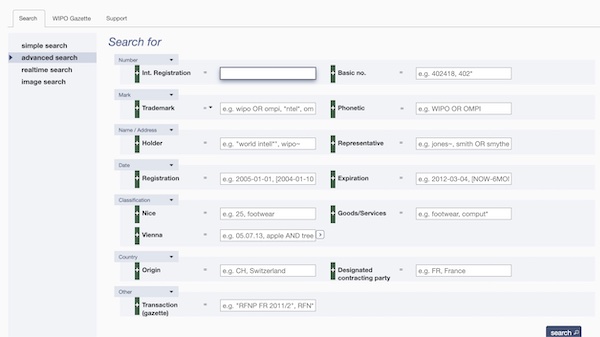 The results are the following and they include all the international marks of the holder: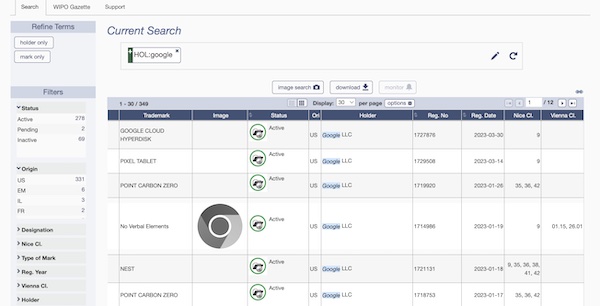 You can slice and dice the information as you wish, you can open it, check any details and acquire documents without any registration. Easy and pleasant.
Another use-case scenario is when a company wants to make sure that its marks are up to date. They recently changed the address and want to get a list of all their WIPO marks with old address. The first impression is that there is no such field, but here, I will show you a trick: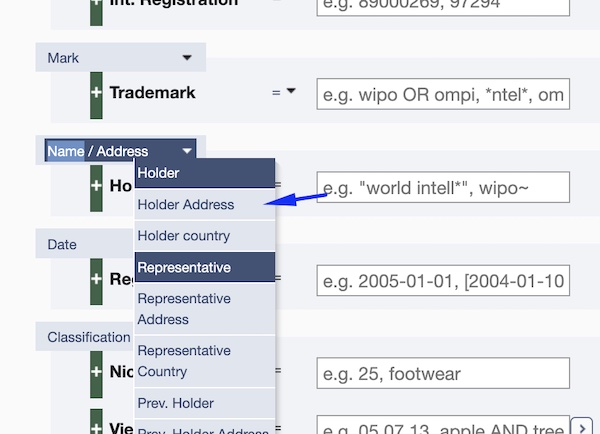 Type in the company name, one detail from the old address, and here you go! A list of marks you own with old addresses.
You can also get a list of trademarks ready for renewal using a search combination of an expiration date. You can check if certain marks are to be renewed in any given period of time.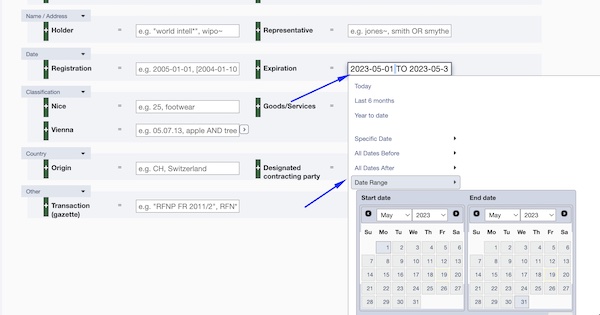 I guess it makes all about the use of the database. Of course, if we talk about professional use, there are many more different ways to use the search. It is very sophisticated and can be used for all sorts of purposes.
Let me know how you are going to use the WIPO search. If you have any questions about the WIPO marks or if you wish to file your WIPO mark and looking for someone with a fixed fee offer and a completely transparent process, search no further because we at Bonamark.com are delighted to help you.
Contact us at [email protected], and we will be happy to assist you.