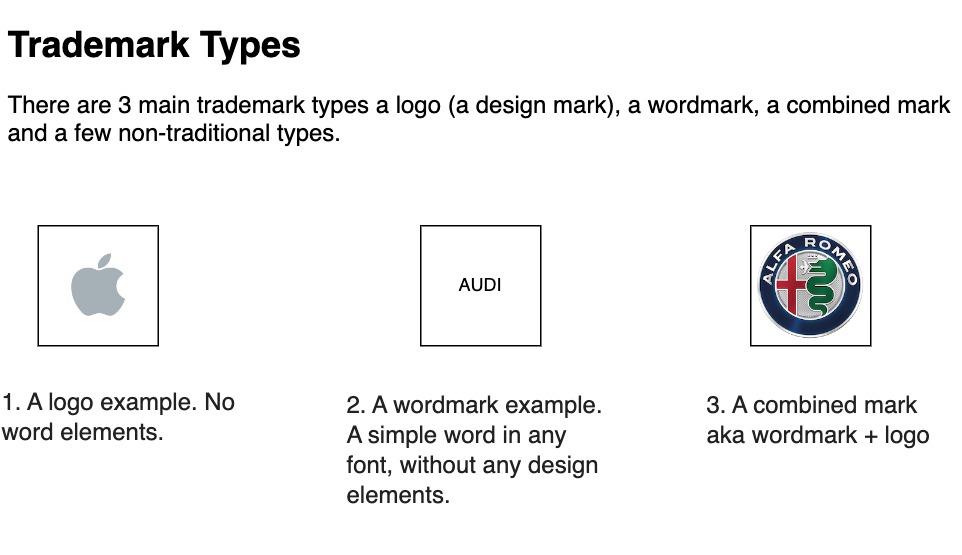 In Switzerland, logos and combined marks can be registered within 1-2 months as they are considered to be more "unique" compared to wordmarks. At the same time, wordmarks offer a broader scope of protection against similar marks. 
We usually recommend applying for wordmarks as your first mark. 
Does an EU trademark application cover Switzerland?
An EU trademark covers 27 countries of the EU. Usually, this is the most cost effective way to register a trademark covering these countries. However, as Switzerland did not join the EU, an European (EUIPO) mark does not cover Switzerland. Owning a EU trademark does not give any advantages when applying for a trademark in Switzerland. You may request priority based on your EU trademark, however, this process is not different from requesting priority based on a trademark filed in other country.
A Swiss trademark does not cover the EU. If you wish to protect your mark in the EU and Switzerland you must file local trademark in the EUIPO and IGE (the Swiss Trademark Office) to get the protection respectively. 
1. Fees and Application Details
☑️ Click here to learn about fees

Trademark registration in Switzerland: Fees and Details

1. You can get up to 3 classes for the listed price without any additional fee;

2. We'll upgrade your order to free expedited processing if it qualifies. In this case, it takes just 2-3 weeks until your mark is registered. Contact us for more details;

3. 450 CHF of the Swiss Government Fee is included in the price;

4. In any case, you can order an expedited processing which costs 400 CHF in government fees, and our fee of 150 CHF will apply;

5. If not expedited, the process takes around 5-6 months from filing to registration (for a wordmark);

6. No Power of Attorney is required;

7. Our success rate: 98/100. If you follow our advice, Switzerland is a low-risk country, and we rarely have problems with registering marks.

Is Switzerland a first-to-file country or a first-to-use country?


Switzerland follows a "first to file" system for trademark registration. This means that the first person or entity to file a trademark application for a specific mark with the Swiss Federal Intellectual Property Office (IPI) has the priority to register and use that mark, regardless of who was the first to use it. In other words, the first person to file an application has the legal rights to the trademark, even if someone else has been using it before.

It is important to note that this applies only for the registration of a trademark and not for the use of it. It is possible that a prior user of a mark that is not registered, can challenge the registration of the mark to a court and prove the use of the mark before the registration.
2. Why get a trademark in Switzerland?
☑️ Click here to read about the benefits

Benefits of getting a trademark

Many foreign companies apply for trademarks in Switzerland in order to give their products an association with Switzerland and the famous Swiss quality. It's common to file a trademark in Switzerland in class 14 for jewelry as well as for watches. It is allowed to do so, but if an applicant uses the Swiss Cross as part of a trademark, the products must be produced in Switzerland.


1. Do not let anyone register your brand and start using it as their own. When they own the brand, they can even sue you

2. Prevent others from destroying your well-earned reputation and stealing your loyal-clients

3. Create a franchise and conquer foreign markets

4. Bring your business to a new level and make it more respectable. Owning an ® is a sign of success!

Switzerland Trademark registration: Requirements

Fill out our simple online form in just 5 minutes and a Trademark Specialist will contact you within 24 hours in order to guide you through the process. We require no documents to file a trademark in Switzerland, however, your list of products must be drafted in accordance with the requirements of the Trademark Office.

Our fee for a registration request in Switzerland includes filing in 3 classes; therefore, the extra fee applies to the fourth and consequent classes.
3. How to Apply for a tademark in Switzerland?
☑️ Click to Read about the Procedure

Trademark registration: Procedure

Our attorney will file your trademark within 5 business days after receiving all the required documents. The language of the application will be Italian or German.

Trademark registration: Duration

A trademark registration is valid for 10 years starting from the filing date.

Switzerland Trademark Search

To search for a trademark in Switzerland, one can request it on this page OR use the online database maintained by the Swiss Federal Intellectual Property Office (IPI). The process of searching for a trademark in the database typically involves the following steps:

Go to the IPI website: Access the IPI website by searching "ipi.ch" in your browser's address bar.

Navigate to the trademark database: On the IPI website, navigate to the trademark database by clicking on the "Trademarks" link.

Conduct a search: On the trademark database page, use the search function to conduct a search for a specific trademark or a group of trademarks based on different criteria such as the name of the trademark, owner, class of goods, etc.

Review the search results: The search results will show a list of trademarks that match the search criteria, along with information about the trademark, owner, status, and other relevant details.

Check the availability: Review the search results to check if the trademark you want to register is already taken, and if it's already registered, check if it's still valid, and whether it's covering the same or similar goods and services that you want to register.

It's important to note that the search results will show trademarks that have been registered or applied for, but not necessarily those that are currently in use. It's also important to request an Extensive Study of the trademark to ensure that the trademark you want to register is not similar to an existing trademark.

How To Order

Leave a request on this page
A Trademark Account Manager will contact you within 24 hours
Prepare the necessary documents
The trademark will be filed within 5 business day
We will keep you posted on the progress & inform you when the trademark registers. It usually happens in 3-6 months. A digital certificate will be issued.

A Switzerland trademark database is a collection of information about trademarks that have been registered or applied for in Switzerland. This information typically includes the name of the trademark, the goods and services for which it is registered or applied for, the date of registration or application, and the name and contact information of the owner or applicant. Some trademark databases also include information about the status of a trademark application or registration, such as whether it has been approved or is pending, and whether there are any disputes or legal proceedings related to the trademark.

The Swiss Federal Intellectual Property Office (IPI) maintains the official database of trademarks registered in Switzerland, which is publicly accessible and searchable online. This database can be used by individuals and businesses to search for existing trademarks, check the availability of a trademark, or monitor the status of a trademark application or registration.

Any questions? Contact us at [email protected]
4. Other Services in Switzerland
☑️ Click to read about Trademark Services

Trademark Services in Switzerland

We offer the following services in Switzerland:

Trademark Search - our trademark attorney will perform a detailed search in the Database of the Trademark Office of Switzerland to determine the probability of registration of your trademark in IGE: IPI Swiss Federal Institute of Intellectual Property. The results of the search will be provided to you in a form of a trademark study, a document containing a list of all possible obstacles (if any) and the probability of registration of your trademark.

Trademark Registration - this service includes applying for your trademark in Switzerland, receiving and scanning any legal documents received from the Trademark Office, updating you on the status of your trademark and forwarding you the registration certificate and being your representative for 10 years.

Trademark renewal - Renewing a trademark in Switzerland includes taking over the trademark registration and submitting a renewal form. Due to some features of the Trademark Office of Switzerland it takes around a month to renew a mark.

Trademark oppositions within 60 days from the publication date. After registration of a trademark anyone can submit an opposition against the mark. Please note that unlike many other countries, in Switzerland the opposition period begins after the registration. However, the process itself is similar to other countries.

Defense in case of oppositions or objections/office actions in Switzerland - our experienced attorney will defend your trademark against any oppositions or cancellations. Should anyone decided to cancel your trademark, they will have to submit an opposition during the publication period.

Trademark assignment, trademark license agreements - you may assign (transfer) your trademark when you sell it or the ownership is transferred to a new owner. The process is online and only a Deed of Assignment will be required

Change of name/Change of Address - our attorney can update the name of your company on the Register and/or the address of your company associated with a trademark. The process is online and is completed within 1-2 months.
5. How to renew a mark in Switzerland?
☑️ Click to read about Trademark Renewals in Switzerland

Trademark Renewals in Switzerland

A trademark is renewable for a period of 10 years and valid from the filing date.

A mark can be renewed within 6 months before the expiration of the current trademark registration.

Trademark renewal schedule

The price is 889$ for one class. The government fee is included in the price.

Government Renewal fee ( for ten years, indefinitely renewable, any number of classes) CHF 700

Trademark renewal process

Please contact us using the following form in order to request a trademark renewal. The process is rather simple, our attorney will become your representative and will pay the renewal fee. We require at least 7 days to complete a renewal as the process is manual. If you send us your instructions 7 days or less before the deadline, please add a late renewal fee of 50 CHF per mark.

1. In Switzerland, trademark renewal is the process of maintaining the validity of a registered trademark. Here are the steps to renew a trademark in Switzerland:

2. Determine the renewal deadline: Trademarks in Switzerland are valid for ten years from the date of registration, and can be renewed for additional ten-year periods.

3. Prepare the required documents: To renew a trademark in Switzerland, you will need to submit a renewal application, along with any required fees.

4. Submit the renewal application: The renewal application can be submitted online or by mail to the Swiss Federal Institute of Intellectual Property (IPI).

5. Pay the renewal fee: The renewal fee must be paid at the time of submission of the renewal application. The fee amount depends on the number of classes of goods and services covered by the trademark.

6. Wait for the renewal to be processed: The IPI will review the renewal application and, if everything is in order, will renew the trademark. The renewal process can take several months.

It's important to keep track of the renewal deadline for your trademark and to renew it before it expires, as failure to do so could result in the loss of your trademark rights. If you have any questions or concerns about the trademark renewal process in Switzerland, it is recommended to seek the advice of a trademark attorney.

How to apply

Documents required: We only need a signed scanned PoA (Power of Attorney) in order to proceed with the service.

How fast the process is

The process takes approximately 1-3 months, and a Renewal Certificate is issued.

What if the deadline is missed?

After the expiration date a grace period of 6 months is provided to the registrant to renew the trademark paying an extra fee. Surcharge (for submission during 6 month post-deadline period) is 50 CHF

After the end of the grace period the mark expires without any ways of restoration, a new mark must be filed.

Filing date: 01.09.2019

Registration date: 01.09.2021

Expiration date: 01.09.2029

The earliest date for filing a renewal: 01.03.2029

Grace period starts and ends: 01.09.2029-01.03.2030

Please be informed that the dates are determined to the best of our knowledge and we take no responsibility if the calculations are incorrect. We recommend that you contact us with an actual case in order to determine the renewal date with the highest accuracy possible.
If you are interested in any of these services, please do not hesitate to contact us.
6. Switzerland trademark attorney
☑️ [Click here] to learn more about attorneys in Switzerland

A Switzerland trademark attorney is a legal professional who specializes in trademark law and registration in Switzerland. They provide advice and representation to clients on trademark matters, including searching for existing trademarks, filing and prosecuting trademark applications, and enforcing trademark rights. They also advise clients on trademark infringement and opposition proceedings, and can represent clients in disputes and legal proceedings related to trademarks.

To become an attorney in Switzerland, one must typically complete several steps:

Education: Obtain a university degree in law from a Swiss university or an equivalent foreign degree recognized by the Swiss authorities.

Legal training: Complete a period of legal training, which usually involves working as a trainee attorney in a law firm or government agency. This period typically lasts for two to three years.

Bar exam: Pass the bar exam, which is a rigorous test of legal knowledge and skills.

Professional experience: Obtain additional professional experience as a practicing attorney. This period typically lasts for one to two years.

Sworn in: Finally, be sworn in as an attorney by a cantonal court.

It is important to note that the requirement may vary depending on the canton, and some cantons have their own specific regulations. Also, it is important to note that in Switzerland is not only the title "attorney" but also "lawyer" or "avocat" depending on the canton.