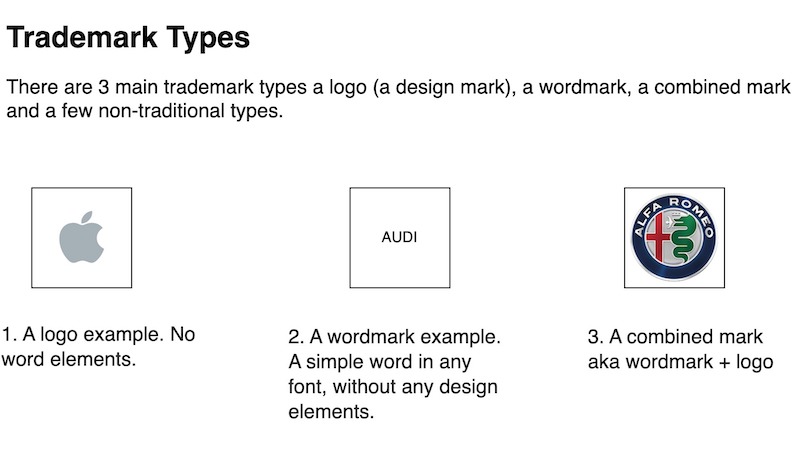 Our professional trademark attorney in Turkey will prepare and file your trademark for registration to National Patent Office. Turkey recently has harmonized its Trademark Law with the EU trademark law.

When you register your trade mark, you'll be able to:
1. Take legal action against anyone who uses your brand without your permission, including counterfeiters
2. Put the ® symbol next to your brand - to show that it's yours and warn others against using it
3. Sell and license your brand
Trademark Classes (Classification) - Turkey Classification
✅ Learn more about Classes
A trademark must be associated with products and/or services, which are divided into 45 classes. The names of these products and services are determined by the Trademark Office of Turkey or by the World Intellectual Property Organization (WIPO). While the Nice classification provides the main list of acceptable terms, each country may have its own variations.
If you already have a trademark, you can send us the details, and we may be able to use the same list of goods. Regardless, we will check if the products are acceptable and assist you in creating a description according to local standards.
Application Process
✅ Learn more about the Process
To start the trademark registration process in Turkey, we will need a simply signed Power of Attorney, which we can prepare for you.
Your Registration Plan
Step 1: Begin with a Free TM Search. We will check if there are any obvious conflicts, so you will know if it's worth moving forward with your mark.
Step 2: Learning more about your brand. To file a trademark, we will require the owner's name and address, the trademark, and whether it has a logo, as well as the services/products it covers. Are you ready to move to the next step?
Step 3: Attorney's opinion (a.k.a. Study) In some cases, we may recommend our attorney to review the case and prepare a detailed registration report. Our Study helps to determine the probability of your brand's successful registration. Our attorneys will ensure your mark complies with the rules regarding what marks can and can't be registered.
Step 4: Request registration and submit your payment. Our fees are transparent, and we will request your mark within 3-5 days. Once we receive your payment, you will get a filing confirmation.
Turkey TM Registration Procedure

✅ Learn more about the Requirements
The trademark registration process in Turkey follows these steps: Applying for your mark (we pay all government fees and submit the application) -> Formal examination (if the list of goods/services is correct and other details are correct) -> Substantial examination (if the mark is unique and registrable) -> Publication (allowing the public and other businesses to object against the mark registration) -> Registration ®
Provided that there are no problems during the examination and publication stages, the entire process in Turkey takes 12 months. If you wish to have peace of mind that your brand will be registered within this timeframe and avoid paying extra for problem-solving, you may order our trademark study.
Trademarks Duration in Turkey and Renewal
✅ Learn more about Duration and Renewal
A mark is protected for 10 years from the date of application and can be renewed for periods of 10 years. Once registered, a digital certificate is issued, as shown below.
Turkey TM Certificate
You must use your mark in Turkey as registered. Failure to use your mark for 3-5 consecutive years may result in it becoming vulnerable to cancellations, and others may cancel it if they decide to start the legal procedure.
Trademark Renewal in Turkey
Renewing a trademark is a quick process in Turkey. We will require a power of attorney and your payment. To renew a mark, the trademark number will be required. Once we have the required document and information, our attorney will enlist as a representative for this trademark registration and submit a renewal at the Trademark Office.
The trademark will be registered for another 10 years. If you miss the deadline, you may submit a renewal within 6 months after the deadline. This period, known as a grace period, allows trademark owners to save their expired marks by paying an extra fee.