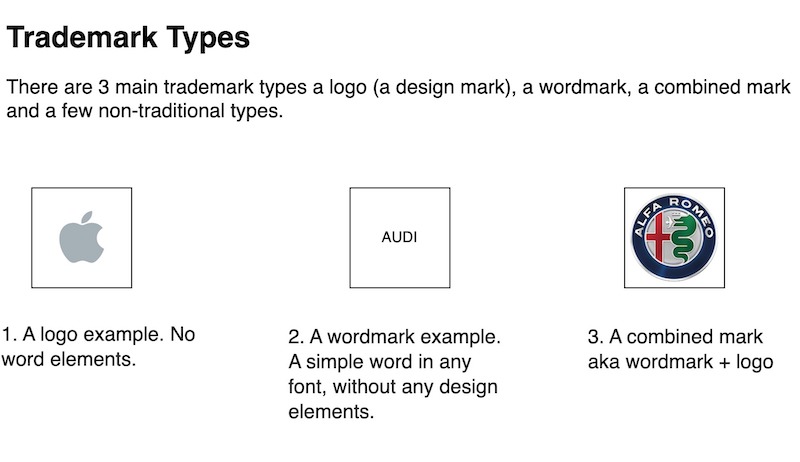 ®️ We recommend choosing a wordmark as your first mark. It gives the broadest scope of protection and wordmarks are rarely changed, unlike logos. 
®️ A logo as a first mark is recommended if the mark you are trying to register is considered weak (descriptive, for example).
®️ A combined mark is a solid choice in many countries. But you must use your mark as it was registered at least sometimes. Therefore, a wordmark is still preferred as it remains the best value for money.
🏢 Official Trademark Office in Hong Kong
Name of Office: IP Department of the Government of the Hong Kong Special Administrative Region.
Address: 24/F Wu Chung House, 213 Queen's Road East, Wanchai, Hong Kong
Phone number: (852)2961 6901
The Trademark Office applies the current version of the Nice Classification; you can find acceptable goods and services in this link.
Bonamark will prepare and file your trademark for registration in Hong Kong. Legal basis is the Trade Marks Act (Trademarks Ordinance, Cap. 559) in force since 4 April, 2003.
Even after the commission of Hong Kong to China, there is a separate trademark law in Hong Kong ("trademarks ordinance"). IP rights registered in Hong Kong will not be automatically protected in China, and vice versa. The principles of "common law" apply.
Trademark protection is obtained by registration. It can also be acquired by sufficient public recognition so to establish common law rights.
Free Trademark Search in Hong Kong
When filing a trademark, it's crucial to check if it is available. Similar trademarks associated with similar products or services can't coexist. The registration process can take up to a year, and the search allows you to confirm that your mark is unique and can be accepted for registration.
There is hardly a thing worse than wasting months waiting for registration of an already taken mark. To be forced to change the mark after mass production started is the worst thing to happen.
Check out our diagram of relative costs to modify the trademark.
We will search for your trademark on the Trademark Database of Hong Kong. Our free search in Hong Kong is for identical or very similar marks. These apparent conflicts signal that there might be problems with the trademark; if you can, you can change it right now.
Our paid detailed search will help reveal less obvious conflicts, for example, the brand similar in sound or visually. When searching for confusingly similar marks, there are four main steps.
1. Free Trademark Search for identical marks in Hong Kong
This part is free. Request your search online and we will check for identical marks, which can prevent your trademark from registration. You can search for trademarks on Hong Kong Trademark Search (a service provided by the Trademark Office of Hong Kong). Also, you need to determine the correct class your product falls into.
If there is an identical mark in class 9 for mobile phones and you sell apples, it's unlikely that there will be any confusion between 2 marks.
2. Check if your trademark is registrable.
Descriptive marks can't be registered (Sweet Candies for candies is descriptive). Make sure your mark does not describe your product, its ingredient or qualities. Also, names of countries, cities and geographical locations are unregistrable. https://bonamark.com/content/my-trademark-registrable
3. Search for Similar Trademarks
Similar marks can't coexist if they are used on similar products or associated with similar services. A trademark can be similar conceptually, phonetically and visually.
A phonetically similar mark is a mark that sounds similar to another trademark: SANSUNG and SAMSUNG are confusingly similar.
A visually similar mark is a mark that looks similar to a registered mark: PUMA and RUMA are visually similar.
A conceptually similar mark is the most uncertain type of similarity. If the regular consumer has the same impression when he sees 2 similar marks in the actual marketplace, these marks are conceptually similar. For example, McDonald's and MacLeod's for fast food can be conceptually similar.
In Hong Kong, the examiner will also perform the trademark search in related classes.
4. Determining the probability of registration
Here, you need to determine if the mark is registrable and if there are any confusingly similar marks. If there are similar marks, can your mark coexist with this mark? If the answer is no, is there a way to allow them to coexist? Our attorney will respond to these questions and provide you with the probability of registration.
⚖️ Registration Requirements
Fill out our simple online form and a Trademark Specialist will contact you within 24 hours in order to guide you through the process.
Legal basis is the Trade Marks Act (Trademarks Ordinance, Cap. 559) in force since 4 April, 2003.
The Intellectual Property Department announced on 27 February, 2013 that the Nice Agreement Concerning the International Classification of Goods and Services for the Purposes of the Registration of Marks (Nice Agreement) applies to the Hong Kong Special Administrative Region (HKSAR).
Multiple-class applications are possible in Hong Kong.
What is registrable as a trademark?
Registrable as a trademark are all distinctive and graphically representable signs, such as words, names, acronyms, letters, numbers, devices, emblems, holograms, movement marks, colors, combination of colors, patterns, three-dimensional forms, the three-dimensional form of a good or its packaging, any combination of the mentioned signs and sound marks and smell marks.
The following trademark types are registrable: trade marks, service marks, collective marks, certification marks and defensive marks.
What will be required to file your brand in Hong Kong?
Type of the applicant: individual or a company.
Complete business name of the owner.
Full address of the owner.
Phone number - to contact you in case if any action is required.
Mailing address - to forward you the certificate once the trademark is registered.
List of goods/services.
Class or classes.
Trademark itself.
Foreign applicants need an address for service in Hong Kong.
A power of attorney is not necessary.
Foreign applicants do not need a domestic registration.
➡️ Procedure Overview
The application process includes a formal examination, an examination of distinctiveness and a search for prior trademarks. Signs not deemed distinctive in the examination can be registered if distinctiveness has been acquired by use.
The processing time from first filing to registration is approximately from nine to twelve months. The first office action is issued after approximately 2 months.
Prior to registration, the trademark application is published in the "Hong Kong Intellectual Property Journal".
A trademark registration is valid for 10 years from the date of application.
The registration is renewable for periods of 10 years.
Available online, you can request a free trademark search online on our website or here:
Trademark Database, which contains registered and filed trademarks in Hong Kong.
This database is frequently updated so you can rely on the information, which you get from the website.
However, we recommend ordering a trademark study because this will let you check the probability of registration of your trademark in Hong Kong, calculated by an experienced professional.
➡️ Trademark Application Fees
The official trademark filing fee is HKD 2,000 for the first class and HKD 1,000 for each additional class. There are no additional official fees for publication and registration.
Our fees (June 2018):
Trademark Search in one class (wordmark or logo): 99 USD
Additional class: 79 USD
Trademark Search in one class (wordmark + logo): 189 USD
Additional class: 159 USD
Trademark Registration Request in one class (wordmark or logo): 579 USD
Additional class: 299 USD
Trademark Registration Request in one class (wordmark + logo): 1159 USD
Additional class: 599 USD
No final fees are required.
⚖️  Trademark Renewals in Hong Kong
A trademark is renewable for a period of 10 years and valid from the filing date.
A mark can be renewed within 6 months before the expiration of the current trademark registration.
Trademark renewal schedule
The price is 549$ for one class. The government fee is included in the price. 
Trademark renewal process
Please contact us using the following form in order to request a trademark renewal. The process is rather simple, our attorney will become your representative and will pay the renewal fee. 
How to apply
Additional documents are not required, we will require only the trademark registration number to identify the registration to be renewed correctly.
How fast the process is
The process takes approximately a week, and a Renewal Certificate is issued.
What if the deadline is missed?
After the expiration date a grace period of 12 months is provided to the registrant to renew the trademark paying an extra fee.
After the end of the grace period the mark expires without any ways of restoration, a new mark must be filed. 
Filing date: 01.09.2019
Registration date: 01.09.2021
Expiration date: 01.09.2029
The earliest date for filing a renewal: 01.03.2029
Grace period starts and ends: 01.09.2029-01.09.2030
Please be informed that the dates are determined to the best of our knowledge and we take no responsibility if the calculations are incorrect. We recommend that you contact us with an actual case in order to determine the renewal date with the highest accuracy possible.
 
⚖️ Trademark Services
We offer the following services in Hong Kong:
Trademark Search
Trademark Registration in Hong Kong
Trademark renewal
Trademark oppositions
Defenses in case of oppositions or objections/office actions in Hong Kong
Trademark cancellations
Trademark assignment
Change of name/Change of Address
If you are interested in any of these services, please feel free to contact us.